This is my second time entering Get Your Chef On hosted by Julie from
White Lights on Wednesday
 and Jen from
Four Mars and One Venus 
.  Julie caught me on one of those rare uneventful days when you think "sure, I can take on ONE MORE THING!"  I must say I am really glad I did.  I had NO IDEA how much I would enjoy myself.  This may sound weird but it also made me realize that there is a large part of me that misses having my own accomplishments that do not directly involve my kids.  I know raising kind, well adjusted, good kids is an accomplishment that rivals all accomplishments BUT sometimes it is nice to challange yourself in a way that does not involve wiping a dirty butt or nose.  (Maybe I shouldn't discuss dirty butts when presenting my edible masterpeice!)  So, thank you to Julie and Jen for giving me that little oppourtunity to pretend I am on Iron Chef going for the gold!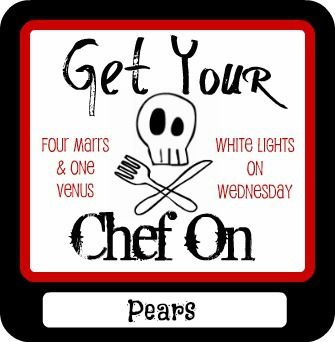 In case you missed it, I was the runner up in round four with my Tart Cranberry Cheesecake with Macadamia Nut Crust.
 In hushed tones…"The secret ingredient is… pears"

PEARS…Pears…pears…think pears.  I do my best thinking in that twilight phase in between awake and asleep.  I just think pears, pears, pears…and as I relax and my mind drifts off I can feel it searching… pears, pears, pears.  Something a little different, something with a little wow,  bingo.
(Please don't have me commited)
I present the "Pear and Cardamom Crepe Cake."
Pear and Cardamom Crepe Cake

Ingredients
Crepes

2 T. oil
1 1/4 cup milk
1 cup flour
1 1/2 T. sugar
3 eggs
1/4 tsp. cinnamon
1 tsp. vanilla

Cardamom Cream

1 1/2 cup milk
6 large egg yolks
2 T. cornstarch
1/4 cup sugar
1/4 cup brown sugar
2 tsp. cardamom
1/2 tsp. cognac
1/2 T butter
1/2 T. heavy cream
1/2 tsp. sea salt

For the assembly

2 ripe pears
blackberry jam

Vanilla Sugar

2 1/2 tsp sugar
1/4 tsp. vanilla extract
Instructions
For the Crepes

Combine all ingredients in a bowl and wisk until combined.
Let sit for 10 minutes.
Heat a six inch skillet and melt enough butter to grease the bottom of the pan.
Pour a very thin layer of batter into the bottom of the pan. You may need to slowly swirl the pan to achieve coverage.
Let cook for a minute or until crepe is set up. Carefully flip and let cook for about 30 more seconds.
Gently slide crepe out of pan onto a towel to cool.
You should have 16-17 crepes. Allow them to cool completely.

For the Cream/adapted from Ina Garten's Cognac Cream*

Heat the milk just until boiling.
Cream the egg yolks and sugar until light and smooth. Sprinkle with cornstarch and mix.
While mixing slowly add the hot milk.
Return the mixture to the stove and cook until thick, constantly wisking. Be careful you do not want the eggs to scramble.
Strain through a fine sieve. Mix in the vanilla, cream, cognac, cardamom, heavy cream, butter, and sea salt.
Place in the refrigerator with plastic wrap touching the top of the cream so a "skin" doesn't form.
Cool completely.

Vanilla Sugar

Combine the vanilla and sugar in a zip lock bag. Rub the mixture around until it is evenly mixed.

For the Pears

Wash you RIPE pears. (You want them to be very ripe. They are not cooked so they add a little texture, but you do want them soft.)
Using a mandolin slice the pears on the thinnest setting available.
Using the end of a corer remove the center of the pear from each slice and rub with vanilla sugar.

Assembly

Make sure all ingredients are chilled.
Spread a thin layer of blackberry jam on one half of the crepes.
Start layering your crepes. Saving the best one for the top.
Layer one, blackberry jam and a thin layer of cream.
Layer two, a thin layer of cream and sugared pears.
Layer three, blackberry jam and a thin layer of cream.
Layer four, a thin layer of cream and sugared pears.
Continue on until all the crepes are layered.
Chill for 2 hours before serving.
*When building the cake try to keep everything level and even, you do not want the cake to slide.
*The crepes and the cream can be made ahead of time, and assembled at a later date.
http://swtboutique.com/pear-and-cardamom-crepe-cake-gyco/



Enjoy,
                    Stephanie